Reflections from the Pastor's Study …
Rev. Dr. Sharlyn DeHaven Gates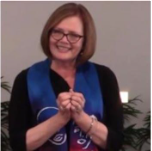 Advent Reflections
"Look, the virgin shall conceive and bear a son, and they shall name him Emmanuel," which means, "God is with us." (Matthew 1:23 - NRSV)
The Advent Season has arrived and what a beautiful time it is for us in the church! The color purple is prominent for Advent (some churches use blue, but we traditionally use purple). Purple is the liturgical color used for passion and royalty. In Lent we use purple as we think of the passion Jesus had for the world as he sacrificed his life on the cross out of love for us. In Advent, we are deeply grateful for the passion God has for the world, shown to us in the gift of his Son, Jesus -- born as we are: a human baby.
Our theme this year is taken from the Bible Study book written by James W. Moore titled Christmas Gifts That Won't Break. We focus on the four themes that we usually use for each of the Advent candles: Hope, Love, Joy and Peace. With each week's Bible Study, and then Sunday's message, we are going deeper into our thoughts about what it means to us that Jesus came to earth bringing hope to the world; showing love that is amazing; giving us a joy that never leaves in spite of what is going on around us; and giving us a peace inside our very souls, and a hope and longing for peace in the world, even when it looks impossible.
The Bible tells us that Jesus has many names: Jesus (which means Savior) was the name the angel told Joseph to give to the baby that Mary would give birth to. He is called Wonderful Counselor, Mighty God, Eternal Father, Prince of Peace, the Messiah (or Christ, the anointed one of God), Redeemer.
Isaiah 7:14 prophesied that the Messiah would be born and named Immanuel, and Matthew 1 says the virgin shall conceive and bear a son and they shall name him Emmanuel. (the difference in the I or the E spelling is a difference between the Hebrew of the Old Testament and the Greek of the New Testament. Both ways mean "God is with us."
Of all the names for the Christ-child, Emmanuel is my favorite. To think that God loves us so much that he gave us such an intimate part of himself ? his heart, his love, his grace; knowing all that this child would face; revealing through Jesus just who God is and how he is always with us; providing for us forgiveness of our sins and a way to break the chains that sin and death have on us. Through Jesus we have this great, deep hope (which I translate more as faith and belief) in eternal life - life after this life.
The promise of Emmanuel -- God is with us -- is everything. To believe that God is with us in our all of our lives truly is a gift of hope. In spite of grief and fear and discouragement, in spite of signs that nothing is right, we have hope of good and wonderful things because God is with us.
God is with us is a gift of love. We are deeply loved by God who gave us his Son to demonstrate that love in amazing ways. If God loves us that much, we can love others as well, and we can even love ourselves.
God is with us is a gift of joy. For Christians, we can have losses and sickness and grief; we can be in difficult situations, yet we have a joy deep in our soul because we have God with us at all times. He is our refuge, our strength and our mighty Savior.
God is with us is a gift of peace. We long for world peace, for hatred to be gone, for wars to cease. We pray for unity and yet, we have a difficult time seeing that it is ever going to happen until Jesus returns, as he promised. But, even in all that strife we still have peace inside us. Jesus is the Prince of Peace. He has brought us peace in our reconciliation with God as we are forgiven for our sins. We have peace with ourselves as we know God's of Emmanuel, we have many Christmas gifts that won't break. And the best one of all is that God is with us.
May you have a deep sense of God with you throughout this wonderful season and through all the new year!
Hope, Love, Peace and Joy!
Reverend Sharlyn
---