Rev. Dr. Sharlyn Gates' blog, "A Journey of Grace ...,"

and can be found by clicking here:

www.sharlyndgates.com

.
---
Reflections from the Pastor's Study …
Rev. Dr. Sharlyn DeHaven Gates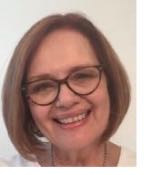 The Adventure Begins
Now the Lord said to Abram, "Go from your country and your kindred and your father's house to the land that I will show you. I will make of you a great nation, and I will bless you, and make your name great, so that you will be a blessing." Genesis 12:1-2
When Abram (later named Abraham by God) heard the voice of God, calling him to set out with his immediate family, his servants and his livestock, and to leave everything that was familiar - his kinfolk, his home, his land - for something that was unknown, guess what he did? He had faith, and he went! And he was an old man. And his wife, Sarai was an old woman. I mean OLD. As in close to 100! Well, they were actually in their 70's when they first set out. Okay, so maybe not so old yet. Little did he know they would have their first child at the age of 100! Living in the desert. In a tent. What???
Why? Why in the world would a couple in their 70's set out on an adventure into the unknown, leaving the comforts and security of what they had always known; leaving their relatives and home, to do this crazy adventure? Well, the only possible answer is that they heard the sweet voice of the Spirit of God wooing them - calling them to go in faith. They were inspired by this God who calls, and they somehow trusted that God would show them the way and would truly bless them and make them a blessing, as promised.
Did Abram and Sarai do everything right? Did they hear and follow exactly what God was saying? Did their adventure go just as God planned all the time? No way. They had many adventures on the way. They made some mammoth mistakes and they got themselves into some trouble a few times too. They had many ups and downs, much discouragement at times, but they didn't give up. They kept trusting and learning and trying new things. They wandered in the desert and they wondered what God was doing. But they kept going, step by step in faith that God was truly leading them, even into the unknown. What an adventure it was! And God did keep His promise to bless and make Abram a great nation.
Well, Church, we too are called to an adventure! We have already left the unknown and we are off the map, trying new things, faithfully continuing to answer the call that Spirit has given us. Like Lewis and Clark, we have believed our journey would be one way and we find instead, huge mountains to cross. We don't know what's on the other side and we don't know what will happen on the way. It's an exploring expedition to be the Church today. It is actually exciting to see what is on the horizon.
This fall, we are starting our programs with the theme of Adventure and Exploring. We will start with Abram and Sarai and with Lewis and Clark. We will be courageous and brave as we start this new adventure. Like Abram and Sarai, we will have familiar comforts with us - we have each other, we have our beautiful old church building, and we have our map - the Holy Bible.
But I want to invite and encourage you to begin this adventure as the Church - looking for new things that God is calling us to. Exploring new ways that we can do ministry, ways to reach out to the community, ways to help those who do not know Christ, to come to that wonderful relationship with Him that we have. That has always been the mission of the Church. God may be trying to nudge us out of our comfort zone, to call us to a new adventure so we can accomplish the mission of reaching others.
Be not afraid. We go together on this adventure. Best of all, God is in the lead. Let's go!
Rev. Sharlyn
---


Transcripts of 2018 Sermons

Copyright 2018. All Rights Reserved.
---
"Ready, Set, GO!!!"
Rev. Dr. Sharlyn Gates
September 16

---
"Grace vs. Justice"
Rev. Dr. Sharlyn Gates
September 9

---
"The Family Tree - ancestry.com/biblebegats"
Rev. Dr. Sharlyn Gates
September 2

---
"Daring to Be Vulnerable"
Rev. Dr. Sharlyn Gates
August 26

---
"From Despair to Hope"
Rev. Dr. Sharlyn Gates
August 19

---
"Ruth: Walking Alongside"
Rev. Dr. Sharlyn Gates
August 12

---
"Bread of Heaven"
Rev. Dr. Sharlyn Gates
August 5

---
"God Centered"
Guest preacher Commissioned Rule Elder
Shaun Hardimon
July 29

Transcript of
Sermon is not available
---
"Follow Me"
Guest pastor Rev. Don Neuville
July 22

Transcript of
Sermon is not available
---
"Worship In The Park" Sunday"
Celebrating 159 Years of Faithful Service
to Jesus Christ

"The Greatest Gift"
Guest pastor Rev. Don Neuville
July 15

Transcript of
Sermon is not available
---
"Sufficient Grace"
Rev. Dr. Sharlyn Gates
July 8
---
---
"Does Everything Happen
For a Reason?"
Rev. Dr. Sharlyn Gates
June 24

Worship Service Video is not available
---
Sermon Skit:
"The Lord's Prayer"
Randy Cook and Gordie Bradshaw
June 17

Worship Service Video

Transcript of
Sermon is not available
---
---
"No Law but Love"
Guest speaker Rev. Dr. Dan Saperstein, Executive Presbyter,
Presbytery of Lake Huron
June 3

Worship Service Video
---
Archive of Worship Service Videos
and Sermon Transcripts

---

---
---