Reflections from the Pastor's Study …
Rev. Dr. Sharlyn DeHaven Gates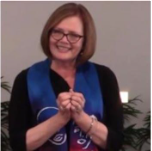 New Year Reflections: Looking Back, Looking Forward
Behold, I will do a new thing, Now it shall spring forth; Shall you not know it? I will even make a road in the wilderness and rivers in the desert. - Isaiah 43:19
Every new year is a time when we naturally look back at the year we just closed and think about all the things we did, the people we enjoyed, the loved ones we lost, the things we were successful with and some that we were not. As we enter this new year of 2019 I find myself looking, not only at the past year but at the last 22 years. I was 40 when I felt God was leading me to go back to school and finish my bachelor's degree.
I barely started that when I had a strong, crazy sense of God calling me to go to seminary which I literally laughed out loud at, being married to a pastor and living in a very rural area of SE Kansas with no seminary anywhere close. The next fall I was living in Iowa with my 13 year old daughter and my husband still back in Kansas. I was in both undergrad and graduate school working on both my bachelor's in social work and my seminary degree. I graduated with my BS in Social Work in 1994 about with my Master of Divinity in 1996.
How can it be that so much time -- 22 years -- has gone by? How can I possibly be as old as I am now? How can it be time now to retire and slow down? It doesn't seem possible. 'There have been so many changes over the years. You know -- children grown and have their own children. We've lived and served in ministry in several places. We are older. Definitely older.
What about you? How has life changed for you over the years? I know you have many good memories of people and places and events in your lives. I also know you have had heartache and loss over the years as well. Life is what it is. We humans are on a journey of life and it is full of twists and turns some very enjoyable and some we can barely tolerate.
The church is the same way. We have a so many good memories of years gone by -- times when the church was so packed there was no place for latecomers to sit without the ushers putting in more chairs; children were everywhere; youth group was booming. And now, times are different. It's happening everywhere -- churches are declining in membership; we don't see many children or young families; etc., etc., etc. Just like those of us who mourn the loss of a loved one and long to have things back as they were, the church mourns the loss of the past -- the good old days. We long for those time when we "were bursting at the seams."
But we have good news! We have just celebrated the birth of the Christ-child and he is called Emmanuel, which means that God is with us. God told the angel to make sure that people knew that name. Not only was it told in the birth stories of the New Testament, but it was also told by prophets of old. It is important for us -- in our personal lives and in the life of the church -- to remember that God is with us always. Yes, Jesus grew and died and is no longer here as a human. In fact, that is good news in itself. The birth of Christ would not mean so much had Jesus not gone to the cross, suffering and dying for us, rising from the dead, so that we might always have life and grace with God. The gift that he sent us -- the Holy Spirit -- is with us always everywhere we are, no matter what!
We are filled with hope, love, joy and peace because of the Holy Spirit with us. Those gifts really are Christmas gifts that never break and remain with us always -- when life changes, when the church changes, when we make transitions -- always. God is with us.
May the new year bring many blessings along with the transitions and changes that are inevitable. Peace, Grace and Joy be to you all!
Reverend Sharlyn
---