Reflections from the Pastor's Study …
Rev. Dr. Sharlyn DeHaven Gates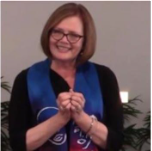 To every thing there is a season, and a time to every purpose under the heaven.
- Ecclesiastes 3:1
Dear Friends,
Over the years I've learned that, whether we like it or not, what the teacher of Ecclesiastes says is so true: There is a season and a time for every thing under heaven. Just as the seasons change from winter to spring; spring to summer; summer to fall and then back to winter, so it is with life and work.
I started ministry later than some. I was 48 when I graduated from seminary and was ordained as Minister of Word and Sacrament in the Presbyterian Church (USA). That was now over 22 years ago. My, my how time flies! Together, Fred and I have served in ministry in seven different states. On March 1, I will celebrate 8 years here in Holly with one of the best congregations in the world.
I've always said that I hoped I could keep going until I was 70 and then I would retire. It seemed like a long time away - for a lot of those years. So, how is it that this coming April I will turn 70? For the most part I do not feel that old. And I know those of you who are 70 and up don't normally feel your age either. What a gift from God that is!
But now a new season is approaching us. If you were in worship on October 28th then you heard my announcement about my plans to retire on April 30th of this coming year. I am ready for a new season in my life; ready to slow down a little and to spend more time with Fred and my family. It is bittersweet, because I have much peace and excitement about retirement yet, on the other hand, it does seem like our time together has rushed past and I will be sad to leave you.
However, I am not gone yet! Please see this: I AM NOT GONE YET. I am going to be your full-time pastor and leader right up to the last day. I will be putting my full energy and attention into this time with you as we are now in the busiest time of the year for the church. We will be focusing this month on being thankful; on giving; on generosity and how important giving with love is to our own spiritual growth. November 11th will be our stewardship pledge Sunday and I pray you will participate with joy and thankfulness for all the blessings God has showered over you. The church will be blessed by your generosity which will enable all of you to continue with many ministries and outreach.
We will then be immersed into the beautiful season of Advent, Christmas and Epiphany. After all that, we will find ourselves in a season of Ordinary Time - a time for growth, for planning, for training of elders, for visioning. For study. It will be a time for preparation as we look ahead.
In March we begin the Lenten Journey making our way to Holy Week and finally to Easter - the glorious celebration of the resurrection of our Lord Jesus Christ.
I am thankful for all of you and I trust you will enthusiastically join me with all these seasons coming up. Together we will do many things to serve our God, to be loving and in fellowship with one another as we worship, study and reach out to our community.
Yes, there will be a new season coming for you, and for Fred and me, but I believe God has new and wonderful things for us all.
The Lord speaks this promise through Isaiah 43:19: Behold, I will do a new thing, Now it shall spring forth; Shall you not know it? I will even make a road in the wilderness And rivers in the desert. (NKJV
Peace, Grace, Joy and Love!
Reverend Sharlyn
---