Rev. Dr. Sharlyn Gates' blog, "A Journey of Grace ...,"

and can be found by clicking here:

www.sharlyndgates.com

.

Reflection from the Pastor …
Rev. Dr. Sharlyn DeHaven Gates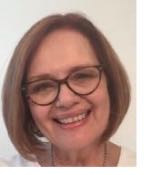 Happy New Year!
The year 2018 is now upon us and with it's arrival brings new hope for a brighter year. We have, once again, celebrated the birth of our Savior, Jesus Christ. We have walked through the four weeks of Advent and reflected on the year past. We faced our grief and sorrow, we recognized the dry desert in our spirits but, hopefully, we were together in experiencing a renewal -- a transformation within as we walked together with new hope, longing for peace, realizing that joy is ours regardless of what is happening in our lives. We may not always feel that joy, but if we are a worshipper of Jesus we know that deep down joy is ours because we have him. He has changed the world. And he has never left us alone to deal with life without his help.
The angel, Gabriel, said his name would be called Jesus, which means "one who saves." Jesus' purpose in coming to earth was to save us from the darkness we tend to find ourselves in. The darkest of dark is that of sin. Why? Because we don't know how to step out of it by ourselves. But Jesus came to offer hope and most of all, to give us grace. Because we are so helpless when it comes to saving ourselves from sin, Jesus did it for us. And because he did in giving his life for us, we are promised that death is not the end. We have that amazing grace and hope that we will be raised to new life -- eternal life -- and will live in the glory and joy of the Lord forever. Such love!
Being promised life after death is an amazing promise, isn't it? But we have other promises too. One that I love is that Gabriel also said the baby would be called Immanuel, which means God is with us. GOD IS WITH US! That's not a promise just for life after we leave this human, earthly life. That is a promise that he is with us throughout our entire life. We are never alone to deal with our sickness, our fears, our sorrows and grief. We are never alone when we celebrate milestones in our lives. God is with us!
To me, that reminder gives me great joy and relief. Because if God is with us, then how could we not be okay in every situation? Yes, things can be difficult and we certainly are not without fear at times. We can get very confused and really down spiritually and emotionally. But if God is with us, if we will just remember that, we can turn to him and find comfort, guidance and compassion, courage, forgiveness and grace.
I believe in the incarnation. That is, God coming to us in the flesh and bones of a tiny human baby so that we might know God, know his love, and never be alone.
In this new year I pray that you will feel the loving presence of God, who is with you, as close as your very breath. I pray that you will always remember that nothing -- absolutely nothing -- can ever separate you from God's love. You are his child. He is constantly working in your life for your well-being.
May the new year bring many blessings and much joy to you all -- my dear congregation.
Rejoice in the Lord always; again I will say, Rejoice. Let your gentleness be known to everyone. The Lord is near. Do not worry about anything, but in everything by prayer and supplication with thanksgiving let your requests be made known to God. And the peace of God, which surpasses all understanding, will guard your hearts and your minds in Christ Jesus. (Philippians 4:4-7)
Peace & Grace,
Reverend Sharlyn
---