Reflections from the Pastor's Study …
Rev. Dr. Sharlyn DeHaven Gates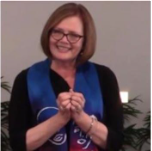 Reflections from your pastor …
In the year 2011, on March 1st, I started to work as pastor at Holly Presbyterian Church. And that very next week we began the journey of Lent, starting with Ash Wednesday -- a soup and bread supper. Our Lenten Study was a very meaningful study by Reverend Adam Hamilton, and we had a big crowd attending the study that year.
Well, here it is, March of 2019 and Lent is here once again! This will be my last time to share the Lenten journey with you, my dear congregation. On March 6th, we will observe Ash Wednesday with the imposition of ashes in a special worship service that will -- God willing -- be in our beautiful sanctuary. Of course, we will enjoy our soup and bread supper before that service. Please mark your calendars and be sure you come for this very meaningful time in the church.
This year's Lenten study is again, a great one by Rev. Hamilton. It is simply titled Simon Peter: Flawed but Faithful Disciple and again, we will see a video in each session where Rev. Hamilton is teaching on sight.
Our study will begin on March 13th and go through Holy Week. As always, we will meet in the Community Room at 7 p.m. (Unless we have a huge crowd and need to meet upstairs! I can dream, can't I?) The Sessions are titled:
1. The Call of the Fisherman
2. Walking with Jesus in the Storm
3. Bedrock or Stumbling Block?
4. "I Will Not Deny You"
5. From Cowardice to Courage
6. The Rest of the Story
Like Simon Peter, we too are called to follow Jesus. The study invites us to participate with these words: "Peter was just an ordinary guy who heard and followed God's extraordinary call. Discover how you, too, have special gifts, talents, and abilities that God can use to make a difference today."
I pray that this Lenten Study on Simon Peter will draw you in and that we will have a very meaningful journey together in this Lenten Season. I'm looking forward to spending this time with you.
Peace, Grace and Love!
Reverend Sharlyn
---