Rev. Dr. Sharlyn Gates' blog, "A Journey of Grace ...,"

and can be found by clicking here:

www.sharlyndgates.com

.
---
Reflections from the Pastor's Study …
Rev. Dr. Sharlyn DeHaven Gates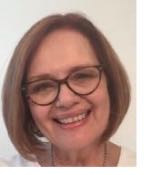 Ordinary Time … Reflections From Your Pastor
"This is the day that the Lord has made; let us rejoice and be glad in it." Psalm 118:24
So here we are. What a journey we have been on since last fall! We jumped into Advent, had a joyous Christmas and before we knew it, Lent and Easter was upon us. There was hardly a break between one observance to the next. And on May 20th, we celebrated the birthday of Christ's Church with the coming of the powerful Holy Spirit and ended the month with Trinity Sunday as we gave thanks for the Triune God -- Father, Son and Holy Spirit.
Now with June here, we go back to what the liturgical calendar calls Ordinary Time. After all the big celebrations that sounds kind of … well … ordinary, doesn't it? I know, I wrote some about it just last month, but now that it's here, let's think about it a little, shall we?
I'm actually very thankful for Ordinary Time. I think our Worship Team is, as well. We have a little bit of a break with not so much to plan for a while. There are no big things to consider -- things like where to put the lilies, or where to put the décor, or the cloth, on the big cross; what songs we will sing for these special days; what might we have to hand out as a memorable token, etc. No. For a little while now, for summer, we will just go back to being ordinary.
That doesn't mean we won't plan worship with excellence. We always want to do our very best in worship. It doesn't mean we don't need to come to worship. We should keep our commitment to worship strong and consistent.
The thing is, our liturgical color for Ordinary Time is green, which reminds us of new growth. But we are taking a break from Sunday School and Bible Study so we have to concentrate; to put a little more effort into making sure we are growing in this time. If we don't attend worship and read our Bibles, our devotional books, and study at home, how will we grow?
So, here is what I think I will do for this summer of Ordinary Time. I will use my blog site to post the upcoming Sunday's Scriptures and theme so you can go there and read and use those tools to do your own reading and study. If you are so inclined you could journal and look up questions you have. You could comment on my blog site and ask questions, or give your thoughts. All those things will be a help to me as I think about the message God is giving me for that Sunday, and, will keep me writing more regularly. I really want to encourage you to participate in this with me. Go online to: www.sharlyndgates.com
I also want you to know that June is not completely ordinary. On June 3rd, we will be honored to welcome our Executive Presbyter, the Rev. Dr. Dan Saperstein, who will be worshiping with us that day. I will be in worship as well, but Dan likes to visit the congregations in the presbytery and is looking forward to meeting you and preaching the Word. I sincerely hope you will come and meet Dan and hear what he has to say.
I will be gone the week of June 16-23 to General Assembly (G.A.) in St. Louis, MO. I have been elected and will be commissioned to go as the Clergy Commissioner for the Presbytery of Lake Huron. Please pray for me as I take seriously my role at this G.A.
Remember that even in our ordinary days God can use us, speak to us, grow us and call us to new service. Are your ears open? Listen, for the Holy Spirit is always at work, maybe especially in Ordinary Time.
Peace and Grace,
Rev. Sharlyn
---