Rev. Dr. Sharlyn Gates' blog, "A Journey of Grace ...,"

and can be found by clicking here:

www.sharlyndgates.com

.

Reflection from the Pastor …
Rev. Dr. Sharlyn DeHaven Gates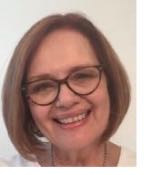 "O give thanks to the Lord, for he is good; for his steadfast love endures forever!"
1 Chronicles 16:34
We gather together to ask the Lord's blessing … I love November, don't you? November is that month where we transition from fall to winter. The beautiful colors of fall are starting to fade, yet there is still plenty of harvest colors to enjoy. I love Thanksgiving and miss the days when my large family gathered together at my grandmothers for a big meal. She always had a place card with each name on it and a psalm for each one of us to read before we ate. My mom and my sister, Cindy, and I sang "Bless This House" and then there was a blessing over the food. It was part of our Thanksgiving prayer. Of course some people got pretty impastient looking at the food and wished we would do all that AFTER the meal.
November, with the church family, is also a very special time. On November 5th, we gather together to remember the saints who have passed on to the life eternal in this past year. We celebrate their life and their faith and contribution to the church. We also will give thanks for the memorial gifts that have been used for the ministry of the church in this past year and will remember those whom those gifts were given in memory of. We give thanks for the generosity of all who have given to help build the kingdom of God on earth and continue Christ's mission.
November 12th is that very important day when we will bring to worship our pledge cards with our commitments for next year. Through prayer and discernment we decide how much we are able to give financially to the ministry of the church and we also are invited to commit our time in serving as well. Generosity is about giving ourselves to God and others in various ways. Please bring your cards and in a very special time of dedication we will lay them at the foot of the cross in an act of trust and thanksgiving. Our cards will be turned over and no one except our financial secretary will see the numbers. It is a confidential commitment between you and God.
The Thanksgiving hymn Now Thank We All Our God says:
Now thank we all our God with heart and hands and voices,
Who wondrous things hath done, in whom this world rejoices;
Who, from our mothers' arms, hath blessed us on our way
With countless gifts of love, and still is ours today.
(Catherine Winkworth, Martin Rinkart,
Johann Cruger, ©public domain)
Let us all say Amen! Let us all give thanks to God for the many blessings we have from Him -- especially the blessings of His love given to us through His own Son, Jesus, and for the gift of our church and our church family. I give thanks for all of you!
Blessings!
Reverend Sharlyn
---