Rev. Dr. Sharlyn Gates' blog, "A Journey of Grace ...,"

and can be found by clicking here:

www.sharlyndgates.com

.
---
Reflections from the Pastor's Study …
Rev. Dr. Sharlyn DeHaven Gates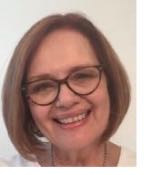 Lenten Reflections
"Show me your ways, O Lord;
teach me Your paths."
Psalm 25:4 (NKJV)
As we continue on the pathway to the cross during this Lenten season, we keep looking at ways to lighten our load, so we can persevere and make it all the way through. The path isn't easy. It is rough and steep with rocks that can cause us to stumble and fall behind. On the first Sunday of Lent I used a large suitcase full of unnecessary items to suggest what might not be helpful to us on this journey - a couple of pairs of fancy dress shoes with heels, a heavy novel, a dressy, loud jacket, lots of make-up and blingy girlie-girl things. Some chocolate. Oh, and a bottle of wine, because wine can relax you and help you forget that you are bone tired. (Tired of lots of things, maybe.)
Now, don't get me wrong. While none of those things are necessary items for living, I'm going to take a stand and say that I like my girlie-girl things and I personally don't think any of the other things are bad, as long as we don't over do with them, and especially as long as we keep them in the place they belong in regard to what is important in life.
Let's face it, there really are a lot of stumbling blocks on this pathway. Obstacles that can cause us to lose our focus on keeping the main thing the main thing - that is, learning the lessons Jesus teaches on the way to the cross; examining our lives and our faith; spending more time in the Scriptures and in prayer. What are the stumbling blocks? Oh, so many things! Things like a disagreement with a friend or family member that upsets you and so you turn to one of those goodies that make you feel good and you forget that you were going to lighten the load and keep an empty space open for God. Now, it's filled again with STUFF.
OR, a stumbling block on the path could be a special occasion. And isn't food always a part of celebrating? So, you decided to give up some favorite food or drink during the Lenten journey but it's just too tempting to not indulge. Which is okay really, as long as you are committed to getting back up and back on the path.
That's actually what it's about, I think. Because even in ordinary times we are trying to walk the path with God yet there are so many things that knock us down. Maybe one of the lessons in Lent is how to get right back up and keep on persevering. Not giving up and not giving in; not saying, "Well, forget it. I just can't do it, so I'm not going to try anymore."
I speak from the heart and I know from my own experience that this happens. In fact, I'm pretty sure it will happen to me on Fred's and my anniversary. And I will give myself grace and not dwell on my weakness, but I will observe it and do my very best to use the God-given strength I have to pull myself up and take that first step back on the path and I will shout out to all my disciple friends, "Hey! Wait for me! I'm still here and I'll catch up."
At the end of that first Sunday in Lent, I put on my practical walking shoes and packed up a backpack with a few necessary items: a healthy snack; a devotional/bible; and a journal and pen. I didn't pack water because the very first stop in the next Sunday's lesson was at the well in Samaria where Jesus gives "living water." Water that quenches forever. In my journal I will record how many times I stumbled on the journey but then I will celebrate how many more times I was successful and strong and how much I'm learning from Jesus as we get close to the cross. I am confident that on the other side of the cross there is resurrection; there is "alleluia." But I will keep on the path with my friends, following Jesus because it will make me strong; it will grow my faith and my relationship with our Creator, Grace-filled God. And I pray you will persevere as well, dear companions.
May we be blessed as we continue on the path together, helping each other when we fall, encouraging and understanding. And then … then we will joyfully sing ALLELUIA! on Resurrection Sunday.
Peace and Grace,
Rev. Sharlyn
---