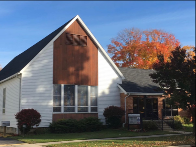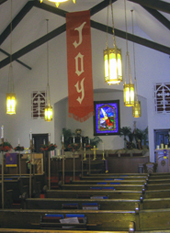 Click here for the new 360º
virtual tour of the Holly
Presbyterian Church's sanctuary.
(Click and hold down the mouse
button to pan left and right, and
use the "Shift" key to zoom-in and
the "Control" key to zoom-out.)
---
Holly Presbyterian Church
207 East Maple Street
Holly, MI 48442
Phone: 248.634.9494
---
Office Hours:
Monday -- Office closed
Tuesday - Friday -- 9:00 a.m. - 12:00 p.m. and 1:00 p.m. - 3:00 p.m.
Saturday -- Office closed
---
Sunday Worship
Summer Hours:
Adult Sunday School will resume September 10th after summer vacation
Fellowship & Coffee will resume September 10th after summer vacation
Worship Service -- 10:00 a.m. (Child care provided)
---
Phone:
Church Office -- 248.634.9494
Pastor:

Office -- 248.634.9494
Home -- 248. 369.8893
Cell -- 620.423.2671
---
E-mail:
---
Join the conversation at the
Holly Presbyterian Church
on these FaceBook pages.
And be sure to click the
"Like" button.
---
---
Holly Presbyterian Church
Sexual Misconduct Policy and
Policy Notification and Acceptance Form
---
Welcome to Holly Presbyterian Church!
A member of Lake Huron Presbytery,
Presbyterian Church (USA)

We are a joyful family of faith
that nurtures knowing, growing, sharing, and serving as followers of Christ
within our church, our community, and around the world through peaceful and loving relationships.

Whether you're a visitor or member, this Website is dedicated to serving as a source of congregational information and, maybe, even inspiration. Start your visit by reading the news below, or by clicking the links on the left. You will find a virtual sketch of the people and life of Holly Presbyterian Church, which will give you a sense of who we are and the journey of faith we are now on.

If you have feed-back for us, please do not hesitate to get in touch with our Outreach Team chairperson, Reisa Hamilton, our pastor, Rev. Dr. Sharlyn DeHaven Gates, or our Website manager, Walter Brown.
---

Guest Minister Rev. Don Neuville's
sermon for Sunday, July 23, entitled,
"The Enemy and Us,"
is not available

---

"Why Don't We Believe in Saints?"
Rev. Dr. Sharlyn DeHaven Gates
July 16

Happenings at Holly Presbyterian Church

Sunday, July 23

Worship -- 10:00 a.m.

Scripture Lessons:

New Testament --

Matthew 13:24-30
Matthew 13:36-43

Sermon: "The Enemy and Us," Guest Minister Rev. Don Neuville

Prayer Ministry following Worship
AA meeting (Community Room) -- 3:00 p.m.

Monday

Office is closed
Pastor is not available
AA meeting -- 7:30 p.m.
Alanon meeting -- 7:30 p.m.

Tuesday

Office is open -- 9:00 a.m. - 12:00 p.m. and 1:00 p.m. - 3:00 p.m.

The pastor is not available. Please contact the church during office hours if you would like to speak to someone
"Friends With Needs Outreach" -- 12:00 p.m. - 3:00 p.m.

Wednesday

Office is open -- 9:00 a.m. - 12:00 p.m. and 1:00 p.m. - 3:00 p.m.
The pastor is not available. Please contact the church during office hours if you would like to speak to someone
"Friends With Needs Outreach" -- 12:00 p.m. - 3:00 p.m.
Presbyterian Women's Bible Study -- 7:00 p.m.
Presbyterian Men's Bible Study -- 7:00 p.m.

Thursday

Office is open -- 9:00 a.m. - 12:00 p.m. and 1:00 p.m. - 3:00 p.m.
The pastor is not available. Please contact the church during office hours if you would like to speak to someone
"Friends With Needs Outreach" -- 12:00 p.m. - 3:00 p.m.

Friday

Office is open -- 9:00 a.m. - 12:00 p.m. and 1:00 p.m. - 3:00 p.m.
The pastor is not available. Please contact the church during office hours if you would like to speak to someone
"In The Beginning" Baby Pantry -- 10:00 a.m. - 12:00 p.m.

Saturday
Sunday, July 30

Worship -- 10:00 a.m.
Prayer Ministry following Worship
AA meeting (Community Room) -- 3:00 p.m.

---

Kids In Worship
A nursery is provided downstairs for children ages 5 and under. All children are always welcome in worship. Ask our ushers about age appropriate worship bags for kids! We believe it is important for children to begin experiencing worship at a young age and while they may not be able to give their attention to the entire service, they will enjoy participating as they begin to learn the parts of worship we do on a regular basis.

---

---

Be Here July 30th
Janet Lyles will be singing a solo for us before she leaves for her new journey to Albuquerque, New Mexico. Congratulations Janet!! We wish you the best in your new adventure.

---

Team Meetings coming up:

Tuesday, August 1st

Worship -- 6:30 p.m. - 7:30 p.m.
Information Technology -- 7:30 p.m. - 8:30 p.m.
Personnel -- 7:00 p.m. - 7:30 p.m.
Christian Education -- 7:30 p.m. - 8:30 p.m.

Tuesday, August 8th

Finance -- 6:30 p.m. - 7:30 p.m.
Care -- 6:30 p.m. - 7:00 p.m.
Outreach -- 6:30 p.m. - 7:30 p.m.
Property -- 7:30 p.m. - 8:30 p.m.

Sunday, August 13th

Come to a team meeting and see what it is all about. You can share your ideals and make things happen.

---

Forgotten Harvest Food Pantry
In support of the important work done by our brothers and sisters in Christ at First Baptist Church of Holly, we continue to collect non-perishable food for their Forgotten Harvest Food Pantry. Items can be placed in the collection tote in the Narthex. Thank you for your support.

---

Exploring Membership
If you are interested in joining The Holly Presbyterian Church, please talk to Rev. Sharlyn Gates, or contact the church office by calling 248-634-9494 or sending an email to office@hollypc.org.

---

Presbyterian Disaster Assistance: Out of Chaos, Hope
Presbyterian Disaster Assistance (PDA) enables congregations and mission partners of the Presbyterian Church (U.S.A.) to witness to the healing love of Christ through caring for communities adversely affected by crises and catastrophic events. Here is how we work.

You can help by giving financially. Gifts can be made:

The latest pictures of events at the Holly Presbyterian Church

Remembering Past Members and Ministers
Over 1,700 people have joined our church over the years, including 38 pastors. We remember those who have gone on before us with a link on the "Our Church History" page to a virtual cemetery with information regarding burial locations, often including pictures of their memorial stones, links to other family members, and more.

---

Prayers of Concern ...

For Karen Costco, younger sister of Doris Colegrove, who is passing into the greater Kingdom of Heaven.
For those serving, or who have served, in the military;
For our members who are home bound, or in care facilities;
For strength, renewal, and healing for: Celia (infant daughter of Sara and Nick Pettit), Scott (Lisa Martin's uncle), Becki (Carrie Duncanson's friend), Hadleigh (infant daughter of Mandy & Josh Banks), Paul Burnett (neighbor of the Killewald's), Cari Oldenburg (friend of Cathie Killewald), Cynthia Branch (friend of the Killewald's), Don Colegrove (Amy Jones' father), Barb Wells, Caroline Parker-Lucido (Brian Parker's sister), Rachel Sparling, Terry Parish, Margaret House, Fran & Pete Olson, Donna Miller, Peggy Ranger;
For our church and both of our pastors;
For our country, its leaders and for world peace in a troubled time.

Prayer Requests from the Presbytery ...

Rev. Robert (Bob) Lakey, Honerably Retired, is now under hospice care at the Cartwright Center in Saginaw. Brief visits are welcome;
For Pam and Rev. Tom Brackbill, of Alma First, as they deal with Pam's diagnosis of Younger Onset Alzheimer's Disease;
For Rev Dr. Tom Schacher of Midland-Memorial and his family as they deal with his diagnosis of Parkinson's Disease;
For Warren Ronk, son of Elder Peggy Ronk, of Breckenridge-Emerson, who is hospitalized and in critical condition.
For our Mission Co-Workers:

Michael and Rachel Ludwig, our Mission Co-Workers who are serving in Niger;
The Rev. Cathy Chang and family who are now in the Philippines.

Adult Sunday School
The Adult Sunday School class has begun its summer break and will resume Sunday, September 10th.

---

Presbyterian Women's and Presbyterian Men's Wednesday Evening Bible Studies -- Summer Schedule
During the summer, the Presbyterian Women's Wednesday Evening Bible Study and the Presbyterian Men's Wednesday Evening Bible Study will only meet on the last Wednesday of each month until September. The remaining dates are: July 26 and August 30.

---

Free Online Religious Studies Videos

We have posted a link to free online Religious Studies Courses from Academic Earth on our Christian Education page. These highly informative video lectures are by experts from prominent colleges and universities in subjects ranging from early Christian art, Faith and Globalization, an introduction to the Old Testament, the New Testament, and Hebrew scriptures in Judaism and Christianity. Click here for more information and to access Academic Earth's Religious Studies

Prayers For Our Missionary Families
The Holly Presbyterian Church supports two missionary families as part of our ongoing outreach to the world: the Keefer family (serving Christ through their Athletes in Action ministry at U of M in Ann Arbor, Michigan) and the Iobst family (serving Christ through the Operation Transit ministry in Algeciras, Spain). We are called to act as the hands and feet of Christ in our world, and because we cannot all serve in full time ministry, we offer our support financially, and spiritually, to those who do. Please pray for these families and consider sending them a note or e-mail of encouragement.

---

"In The Beginning" Baby Pantry Update:
The "In The Beginning" Baby Pantry -- located on the lower level -- is a free resource for parents of infants, providing new and gently used clothing, linens, incidentals, diapers, formula, and emotional support for families experiencing tough times.

We are in need of:

Donations can be placed in the crib in the narthex,
or financial donations can be placed
in the offering plate with a notation or envelope marked "Baby Pantry."

Give & Take Library: We have added a "Give and Take Library" to our baby pantry and invite the entire Holly Presbyterian Church family to support this expanded ministry by donating children's books (used or new). The families love this new library and are being blessed by it! Thank you to all who have contributed.

"In the Beginning" will normally be open on the second and fourth Fridays of each month, and the third Saturday. The upcoming dates are:

Friday, July 28 -- 10:00 a.m. - 12:00 p.m.
Friday, August 11 -- 10:00 a.m. - 12:00 p.m
Saturday, August 19 -- 10:00 a.m. - 12:00 p.m.
Friday, August 25 -- 10:00 a.m. - 12:00 p.m.

"And he took the Children in his arms,
put His hands on them and blessed them."
Mark 10:16

Great Lakes Scrip Fund Raising Program
The Great Lakes Scrip Program is a simple and easy way to support Holly Presbyterian Church. Here's how it works:

The church will earn, on average, 4% - 5% of the face value of the cards ordered. Orders can be given to Vicki Lyles on the first Sunday of each month, or placed in the offering plate. If you have any questions please see Vicki.

Card orders placed Sunday, July 2,
will be available for pick up Sunday, July 9.

---

Recycle Batteries And Ink Cartridges
We recycle batteries of all sizes as well as ink cartridges. On top of that we are able to turn them in for cash, which goes back to the church. Don't forget when you replace your next battery or cartridge to bring in your empty to the narthex. Thank you.

You can now make donations electronically to the Holly Presbyterian Church through the Presbyterian Mission Exchange's Website using your credit card or debit card. All electronic transactions are secure and private. Here is how it works:

Click the "Give Now" button below. This will take you directly to the Holly Presbyterian Church's secure donation form on the Presbyterian Mission Exchange's Website.
Completely fill out the form using the easy-to-use instructions and then click-on the "Give Now" button at the bottom of that page. You will then see a "Thank You" screen.
You will receive an e-mail from the Presbyterian Mission Exchange acknowledging your donation to the Holly Presbyterian Church, which can then be used as a receipt for your IRS tax form. The church treasurer will simultaneously receive an e-mail notification of your donation for the church's records.

All donations are greatly appreciated

---